Archive for August, 2020
Friday, August 14th, 2020
If your credit is less than perfect, you may be struggling to buy a used car. While it's possible to find used cars Indianapolis Indiana drivers need at a good price, buy here pay here options that put you in a great car regardless of your credit score.
Buy here pay here car lots are the solution when you have credit challenges. Bad credit should not mean you do not have access to the car that you need. You just have been shopping at the wrong dealership.
Why Buy Here Pay Here Car Lots Are the Best Solution
Many car dealerships only work with traditional lenders. That means if your credit score is not at a certain number, then they will not help you. Buy here pay here car lots work with a wide range of lenders that do not use just a credit score to determine your creditworthiness.
A lot of good people that deserve a second chance are denied — simply because they are trying to buy a used vehicle from a dealership that considers a number on a sheet of paper more important than the person. Buy here pay here car loans do not consider your credit score to be the most important part of whether you deserve a reliable vehicle. They look at the whole picture and consider:
Your income
Your ability to pay for a used vehicle
Your job security
If you have enough income to cover a car payment, and that income is steady, then you are likely eligible to get a car loan at a buy here pay here dealership. You can buy a used car that will be affordable, reliable, and stylish.
Shop Today
Of course, not every buy here pay here dealer offers the high quality used vehicles that you want. The right dealership that specializes in bad credit car loans will offer a wide range of options to meet any need.
As a buy here pay here car dealer in Indianapolis that has a huge inventory of used vehicles, we can meet a wide range of needs. Your credit won't be an issue. If you are ready to get in the vehicle that you will love and can afford, shop now. You can drive off the lot with your new used vehicle today.
Monday, August 10th, 2020
If you have a bad credit history, you may worry about getting an auto loan to finance the purchase of your new vehicle. You are not alone. Over 68 million American Adults, nearly a third of the population, have a bad credit score. Buying a car with bad credit is possible. Sometimes you may have to spend a bit more to borrow for your new asset. However, with proper research and planning, you can get a bad credit auto loan option that works for you. Here are five tips to have your auto loan approval for bad credit.
1. Find Out Your Credit Score (Improve it if you Can)
The first step to getting your auto loan approval with bad credit is to check your credit scores. There are many free credit score checkers available online. It is crucial to find out this figure as most lenders tend to have minimum credit score requirements. You may try to improve your credit score by going through your credit history and identifying errors in the report. You may dispute the errors and enjoy a higher rating.
You can also start paying your bills and credit card payments on time for a few months. You can put your quest for a new car on hold for a few months.
2. Save for a Larger Down payment
You may try to convince auto lenders to approve your bad credit car loan by offering a larger cash deposit. Industry experts estimate a 20% down payment is standard for new car loans. With bad credit history, you may need to raise a higher amount. The larger, the better. It may help lower your loan-to-value ratio, helping you save on total interest costs.
3. Create a Budget and Stick To It
You may need to figure out how much you can afford each month to pay up for your car. Reflect on your monthly spending for the previous six months. Note down your recurrent expenditures. Determine how much you may save for your down payment. When you minus the savings and expenses, you may get a rough figure of what you can afford to spend on the auto loan. This way, you lower the chances of having a repayment that will strain your finances.
4. If Possible, Get Yourself a Co-Signer
A co-signer is an individual with a good credit rating that the lender will enlist to your loan. They are responsible for ensuring you pay for your car loan. The co-signer may get penalized if you default on the payments. The co-signing may significantly improve your chances for an auto loan approval for bad credit. Besides, you may also enjoy lower interest rates.
5. Flexible Low-cost car Options
The average price of a new car in the US is $35,309. Used cars present a cheaper option to fill in your vehicle needs as you sort out your bad credit. Recent research shows that the most frequently searched vehicle price range is $5,000 or less. The less the amount you need to borrow, the less you will pay in interest.
Bonus Tip: Look into Dealer Financing
Most used car dealerships have a variety of payment options with flexible repayment plans. Buy here pay here car loans are popular among buyers with a low credit score. The auto dealer is still the financier in this model. You get guaranteed financing and auto loan approval for bad credit.
Do you wish to discuss your loan options with a trusted used car dealership in Indianapolis? Head over to Auto Sales and Service today.
Wednesday, August 5th, 2020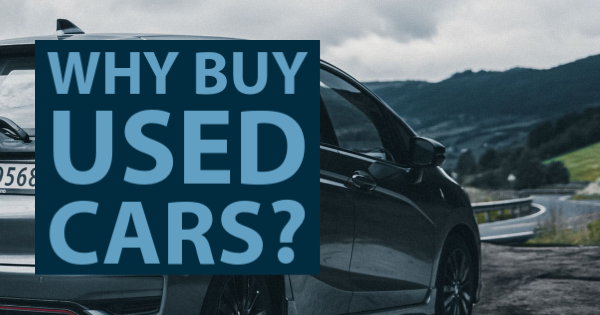 When you're in the market for a vehicle, used cars are an option to consider. In fact, of all the cars sold in the United States, 75% of them are previously owned. Why do so many people buy from a used car dealer when they can buy a new car?
There are many reasons to consider a used vehicle over a new one. Once you realize the value in buying a used truck, used SUV, or other used cars, you will think twice before buying a new one in the future.
Used Cars Are More Affordable
Perhaps the main reason to buy used cars is this: they have a lot of value to you as a budget-minded person. Many used cars under 10000 are available to you so you can get a car that is worth it to you and have many varieties and makes and models to choose from.
Used Cars Are More Available
Have a specific type of car in mind to buy but you aren't sure you can afford it? Have a make and model in mind but the newest line isn't out on the market yet? Used cars are readily available at most auto dealerships and can give you great value for your money. You can find a used car dealer in your area who can help you located low cost cars if they don't have any already in their lot.
Used Cars Are Worth More
As soon as you drive a car off the car lot, it's losing value. When you invest in a pre owned car that is only a few years old, it actually has the best value of any vehicle, new or used. Used cars in general are a better value because they depreciate at a lower rate and most of the depreciated value has been taken out of the vehicle. If you want the most for your investment, get a used car you can rely on.
Whether you need a new car because your older car is broken down, you have to get a second vehicle for work or school, or you just have some extra money and want to see what's on the market, buying used cars can be best for you. Explore your used car options at your local car dealership to see what's best for you.